Get an exclusive preview of Final Fantasy XIV's upcoming Patch 6.5, showcasing three thrilling segments filled with thrilling quests, fresh trials, PvP enhancements, and much more!
Update Schedule
During Tokyo Game Show 2023, Naoki Yoshida, the Producer and Director of Final Fantasy XIV, unveiled numerous surprises and details about the final Endwalker Patch 6.5. This patch will be divided into three parts, each offering unique content and release dates:
Patch 6.5 is set to launch on Tuesday 3rd October 2023 and will feature:

The first installment of the Main Scenario
The epic conclusion to the Endwalker Alliance raid, Thaleia
An extraordinary Dungeon: The Lunar Subterrane
The ultimate Trial: The Abyssal Fracture and The Abyssal Fracture (Extreme)
A brand new Unreal Trial: The Singularity Reactor (Unreal)
Duty Support will be available for all main scenario dungeons from A Realm Reborn through Endwalker.
Job Adjustments for PvP and PvE: balancing the damage output among jobs within each role, as well as enhancing the potency of certain job actions.
Island Sanctuary Updates: Introducing new ranks, visions, and gathering areas in the wilderness. Players can expect fresh crops, Isleworks handicrafts, animals, structures, and more. Additionally, the introduction of Felicitous Favors, exclusive requests that players can complete for special rewards.
Patch 6.51 is scheduled for late October 2023 and will bring the following updates:

A new challenging Dungeon: Aloalo Island. Based on player feedback, the FFXIV team is working on new rewards for savage mode, which will help increase item level.
PvP Enhancements: Introducing a new Arena – The Red Sands, along with UI and Mini Map adjustments.
Splendorous tools
Patch 6.55 is set to launch in mid-January 2024, and will include:

The second and final installment of the Main Scenario, concluding the Endwalker storyline
Continuation of Tataru's Grand Endeavor
Endwalker Tribal Alliance Quest. Note that completion of the Arkasodara, Omicron, and Loporrit tribal quests is required.
Further Hildibrand adventures
Additional Manderville Weapons
Other Updates
Additionally, Patch 6.5x will bring several miscellaneous updates, including:
Fresh custom deliveries: Margrat
Green dot indicators for newly logged fish in the fish guide
Ability to store optional items in the armoire
Final reward for obtaining all Trial Mounts in the 6.x patch series
Item level restrictions for Duty Roulette: Alliance Raid based on level
Adjusted EXP and Allagan Tomestone rewards for each alliance raid, based on difficulty and completion time
New Gear, Glam, Housing Furniture, Mounts, and Minions, including a UFO Mount!

To expand server infrastructure options in the future, the FFXIV team is considering the use of cloud data centers. As part of a public stress test during the 6.5x patch series, a temporary North American Cloud data center will be implemented. Players will be able to select the cloud DC as an option upon the release of Patch 6.5, and it will be accessible during the test.
Further details about the cloud data center stress test will be announced on the Lodestone at a later date.
The free trial will be expanded to level 70 in two weeks, allowing new players to enjoy the game for free until Stormblood!
Live Gameplay Demo
Naoki Yoshida showcased some of the upcoming content in a live gameplay demo, giving fans a glimpse of what's to come:
The Abyssal Fracture: A new trial that challenges players to face a mysterious enemy. Yoshida demonstrated various mechanics, phases of the fight, and the stunning visuals and music.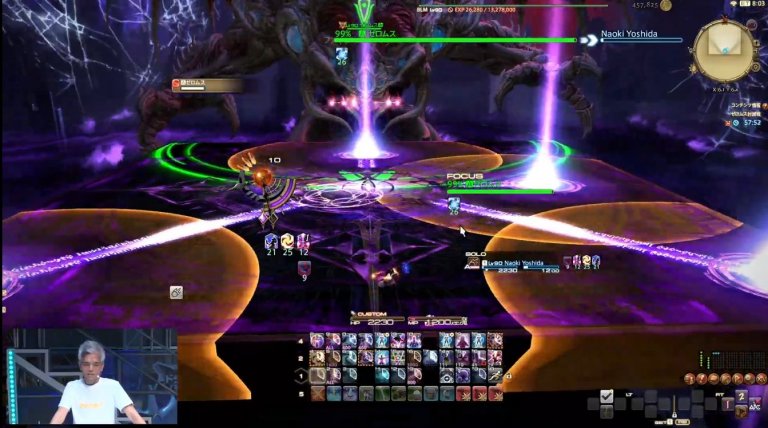 Thaleia: The final raid that concludes the Alliance story. Yoshida provided a glimpse of the bosses, environments, and hints about the lore and secrets surrounding this raid.